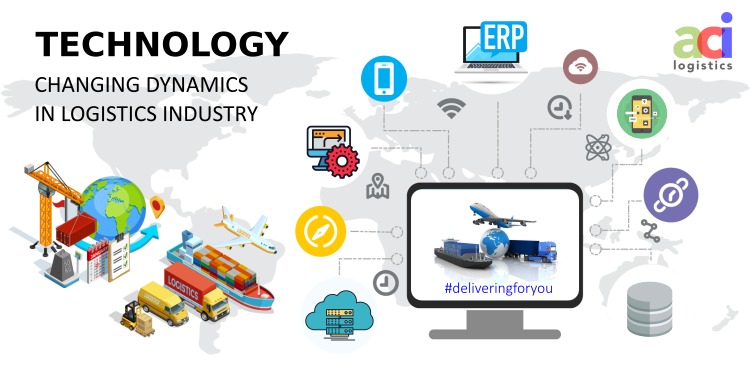 In 2021, customer expectations have increased greatly. People and businesses expect to get goods faster with same-day delivery and – in the case of consumers at no delivery cost. The original manufacturers or OEM's are becoming more customized in their offerings which impacts the logistics industry and demands innovative and improved logistics and supply chain services, for brands and customer satisfaction. Add it all up, and the sector is under acute and growing pressure to deliver better service at an even lower cost.
The only way forward is by making maximum and intelligent use of technology, from the cloud, data analytics, to automation and to overcome these challenges. Utilizing technology will ensure lower costs, improved efficiency, and make genuine breakthroughs in the workflow of the industry works. Taking your logistics operations towards 'digital fitness' is a prerequisite for every logistics industry while giving a crucial position for growth.
Let's take a look at the top technology trends shaping the logistics industry and how possible future marketplace would look like:
The logistics industry requires various stakeholders' involvement, interaction, and dependency such as warehouse operations, documentation, regulatory or billing and could have the capabilities to "connect all" without much cost, practically everything on a web browser.
Benefits of cloud technology
Easy to adopt, integrate and use
Hassle-free transactions, easy track, notifications updated to the customer on shipments
Manages end-to-end shipment journey, provides easy support to customer
DATA – The New Oil to Drive the Logistics Industry
The world's most valuable resource is no longer oil, but data" – The Economist
Logistics, the largest industry globally, generates massive data from customers, transactions, and shipment information. But most of the data is highly unstructured and unorganized, making it challenging to utilize or turn into meaningful insights. We need to implement organizational systems that gain business insights on day-to-day transactions and bring efficiency for the customers and logistics business owners to save time & money.
Personnel is still the most significant cost item in most warehouses and, with labour shortages, staff can be challenging to recruit. Through successful deployment of robots, companies will have to simplify, standardize and digitalize their logistics processes. Robots are very profitable if they can perform simple tasks in exactly way over and over again.
Modern-day ERP software allows businesses to manage supply chains, vendor relationships, workflows, and distribution channels. Also, the systems help identify obstacles and inefficiencies and bring transparency and visibility for quick decision–making, thus making the entire process robust.ERP in-built with CRM features digitally manages customer services, queries and has made the process digital and accessible.
Every human using smartphones to do everything – such as buying, ordering services, and paying utilities. And it is increasingly becoming the case for our business life. For instance, in logistics transport, drivers use apps to update shipments, RFID tags to track and trace and get digital airway bills on the app to provide hassle-free handling of international shipments.
Monitor the cargo space
Booking secure parking spaces
Photographing and recording damaged goods
Operating intelligent traffic navigation systems
ACI is cohesive to lodge itself as the frontrunner of this technological transformation, and our technology teams have incubated a customer-driven approach for each of our clients. We check each touchpoint and possibility during the customer journey to ensure the delivery is accurate, quick, and up-to-date to make each transaction smoother. We are the leading enablers of technology enablers in the logistics business.
Connect with us for all your logistics requirements.  Visit: https://aci-logistics.net/