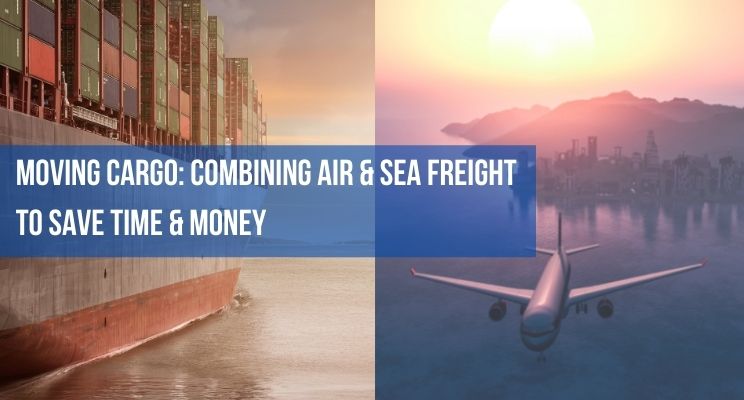 Have you ever heard of combining Air and Sea Freight?
Many people haven't, but in this time of instability, this method of freight forwarding may just be the solution you are looking for.
At first look, it may seem unlikely that this joint transportation mode approach which we refer to as Sea-Air would be of benefit to most importers, but it turns out that there are many situations when shippers and importers are able to take advantage of this out-of-norm transportation tactic.
When shippers want a more cost-effective option than air freight – but a quicker one than ocean freight; then this unlikely combination does the trick.
Many businesses owners have been using this type of service to help them meet tight delivery deadlines and at the same time save significantly on shipping costs as well.
The combination of Sea and Air Freight gets your cargo to the destination in a shorter time span than would be possible if only one was used, with a lower price tag.
Using an out-of-the-box solution comes with its own advantages and limitations though, which we will explore in more detail below
What Is Sea-Air Freight?
When you need to transport your cargo quickly but don't want to pay full freight, combining sea and land transportation is the solution.
The Basics Of Sea-Air Freight
This hybrid approach makes use of both ocean and air transport when moving cargo from one location to another. It allows shippers to take advantage of the speed offered by air shipping with the low costs of sea shipping.
The entire process can take anywhere from five days to over 20 days, depending on where your shipment is going. If you are transporting cargo over long distances, you will save more money by choosing this option because you are only paying for a portion of your shipment to be shipped by air
To help you better understand the advantages and limitations of this type of freight service, we have compiled a list of them below:
Advantages
• Combining both transportation methods is faster than ocean freight alone.
• Combining both transportation methods is cheaper than air freight alone.
• With faster transit times and a lower initial outlay, you may find that you need less warehouse space, and bring your overhead costs lower.
Limitations
• The arrival time is not as predictable because it still depends on ocean transportation, which is more vulnerable to delays.
• The cargo can only travel to limited destinations by air freight (only major cities).
• The size and weight of the cargo has stricter restrictions as you are including air transportation.
Need some advice?
If you are considering using a blended transportation method for your business, but are not sure where to start – get in touch.
ACI Logistics have been moving cargo internationally for over 20 years.
Our friendly support team are here to help you make moving your cargo the easiest part of your business.